Thank you to our members and sponsors.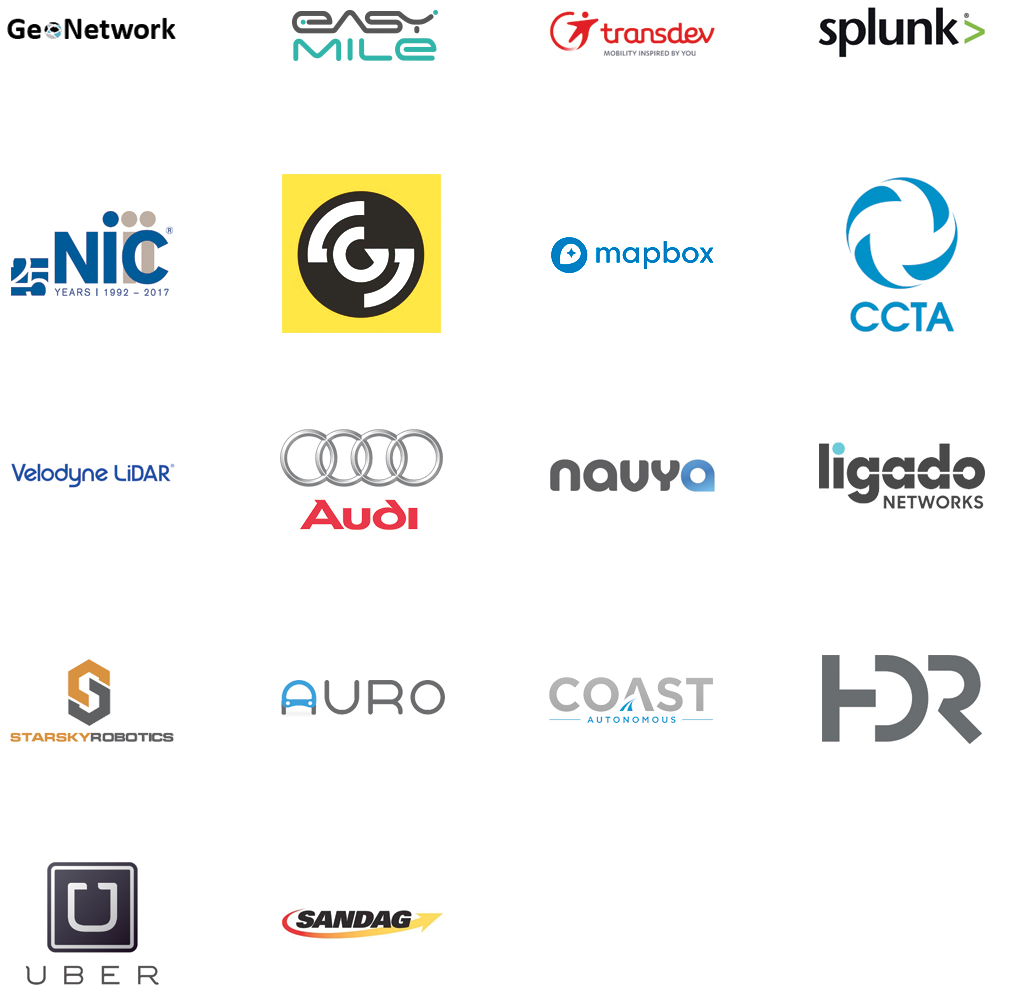 MEMBERS
GeoNetwork – http://www.geofrenzy.us
GeoNetwork delivers the first comprehensive platform for the registry, delivery, and management of geofences. Our patent-protected technology creates a global standard for geospatial information, providing the infrastructure for revolutionary applications and services across industries.
EasyMile http://easymile.com
On 7th January 2017, the Alliance for Transportation Innovation (ATI21.org), together with EasyMile and fellow sponsors Transdev, Splunk and HDR, announced plans for a cross-country autonomous vehicle road trip in the United States, that began on January 26th in Atlanta, GA.
Transdev  https://www.transdev.com/en/
Transdev designs, deploys and operates mobility solutions combining all modes of transportation and including services which make passengers' daily lives easier. Its action makes mobility a lever for quality of life and regional development.
Splunk – https://www.splunk.com
We make machine data accessible, usable and valuable to everyone
NIC – http://www.egov.com
At NIC, we are a public company whose sole purpose is to help make government more accessible and efficient for all.
Gridsmart –  https://gridsmart.com
GRIDSMART is the world's only single camera solution for intersection actuation, traffic data collection, and situational awareness. GRIDSMART delivers smart traffic management solutions to communities of all sizes so they can reduce urban congestion, maximize efficiency and reduce environmental impact. In addition, real time performance data such as time stamped traffic volumes, turns and average speeds is collected and made available to traffic engineers, urban planners, metropolitan planning organizations and others for analysis and better decision making. A rich set of available APIs and Web Services facilitates easy integration to feed Smart City Portals and other applications.
Mapbox – https://www.mapbox.com
Mapbox is the location data platform for mobile and web applications. We provide building blocks to add location features like maps, search, and navigation into any experience you create.
Location is built into the fabric of our daily experiences. Whether you're exploring a city with Lonely Planet, seeing if it's going to rain on Weather.com, tracking breaking news on Bloomberg, or checking your ETA in Lyft — location is essential to every one of these applications, and they're powered by Mapbox.
We craft beautiful maps and developer-friendly location data, APIs, and SDKs so that you're free to focus on designing, building, and developing your application. Our open-source tools let analytics companies understand big geo data, drone companies publish flyovers, real estate sites visualize properties, satellite companies process cloud-free imagery, and insurance companies track assets.
Contra Costa Transportation Authority – https://ccta.net
The Contra Costa Transportation Authority (CCTA) is a public agency formed by Contra Costa voters in 1988 to manage the county's transportation sales tax program and to do countywide transportation planning.
CCTA is responsible for maintaining and improving the county's transportation system by planning, funding, and delivering critical transportation infrastructure projects and programs that connect our communities, foster a strong economy, increase sustainability, and safely and efficiently get people where they need to go. CCTA is also the county's designated Congestion Management Agency (CMA), responsible for putting programs in place to keep traffic levels manageable.
We work to improve our quality of life and help make our community great – now and in the future.
Velodyne – http://velodynelidar.com
MEET THE MOST ADVANCED LIDAR SENSORS ON THE MARKET. Developed to create a full 360 degree environmental view for use in autonomous vehicles, industrial equipment/machinery, 3D mapping and surveillance, Velodyne LiDAR now provides a full line of sensors capable of delivering the most accurate real-time 3D data on the market.
Audi – https://www.audiusa.com
Vorsprung is our promise.
We inspire through individual, sustainable premium mobility.
Our premium vehicles are the foundation.
Navya – http://navya.tech/?lang=en
NAVYA is a French company specialized in the conception of electric, autonomous systems. For the past 10 years, NAVYA has been developing complex technological solutions towards sustainable mobility. NAVYA is mobilizing its expertise of intelligent transportation as to answer the societal, economical and sustainable challenges of the 21st century.
Ligado Networks – http://ligado.co
Ligado Networks is uniquely capable of providing critical communications that are pervasive, highly secure and ultra-reliable. By seamlessly combining mobile satellite and ground-based capabilities, Ligado can serve mission-critical Internet of Things (IoT) and the emerging 5G market.
SPONSORS

Starsky Robotics – http://starsky.io
Auro – http://auro.ai
Coast Autonomous – https://www.coastautonomous.com
Coast is creating smart connected vehicles, which integrate with existing transport modes, infrastructures, and traffic management systems, to ensure that people in communities, campuses, and commercial environments experience the ease of seamless mobility.
HDR – https://www.hdrinc.com
We specialize in engineering, architecture, environmental and construction services. While we are most well-known for adding beauty and structure to communities through high-performance buildings and smart infrastructure, we provide much more than that. We create an unshakable foundation for progress because our multidisciplinary teams also include scientists, economists, builders, analysts and artists.
Uber – https://www.uber.com
We're finding better ways for cities to move, work, and thrive.
CLIENTS
San Diego Association of Governments – http://sandag.org
The 18 cities and county government are SANDAG, the San Diego Association of Governments. This public agency serves as the forum for regional decision-making. SANDAG builds consensus; makes strategic plans; obtains and allocates resources; plans, engineers, and builds public transportation, and provides information on a broad range of topics pertinent to the region's quality of life.